Yogis R Warriors of Hope
3rd Annual Fundraising Yoga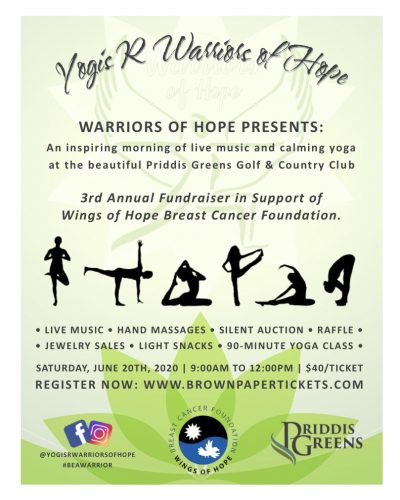 The 2020 Yogis R Warriors of Hope event has been cancelled due to the Covid 19 Crisis.
Here's what we are doing instead.
Draw for a Gift Basket:
To thank all our friends and supporters we are having a draw for a beautiful Self Care Gift Basket graciously donated by Centered on Centre Yoga Studio. Please email your name to info@warriorsofhope.ca to enter your name in for the draw. Draw will be held on June 20,2020. We thank Centered on Centre for continuing to partner with us despite our event being cancelled.
Donate to Wings of Hope:
We are encouraging all our friends and supporters who are financially able to please consider making a donation directly to Wings of Hope. The need for financial assistance still remains and the number of women seeking assistance will likely increase with the current economic fallout from the Covid 19 crisis. Your help during this time is crucial and absolutely appreciated!
Thank You to our Sponsors:
Thank you to SunLife Financial and Susan Rust Realtor for donating their sponsorship funds directly to Wings of Hope as the start to our donation effort!
How to Donate:
Please Donate to the "Warriors of Hope Event" Fund at https://wings-of-hope.com/donate/
Mention "In support of Warriors of Hope" in the message to the charity.
Alternately, you can send a cheque payable to Wings of Hope and write In Support of Warriors of Hope on the cheque. They will issue a tax receipt for all donation over $25.
Wings of Hope Breast Cancer Foundation
PO Box 84007 Market Mall
3625 Shaganappi Trail NW
Calgary, Alberta T3A 5C4
Already Purchased a Ticket?:
Anyone who has already purchased tickets on Brown Paper Tickets will be refunded through BPT. You will have received an email to do so already. If you do not request a refund, all ticket money remaining will be donated to Wings of Hope.
Connect with Yogis R Warriors of Hope on Facebook and Instagram @YogisRWarriorsofHope
Please consider making a tax-deductible donation directly to us. Indicate your love for Yogis R Warriors yoga event by mentioning "Warriors of Hope Yoga Event" in the message section.